This interview was held with current 200HR student, Kerri Widdup of Westbank, BC, Canada, in July 2021.
What is your yoga background?
I have explored yoga for many years, mainly through classes, books, videos, streaming from online resources and self-experimentation.
How or what prompted you to take YTT?
I have always wanted to take yoga teacher training for my own interest and to share with others through teaching. It always seemed out of reach both financially and due to the time commitment required. I came across Your Yoga Flow training on social media and because the financial commitment was feasible, I did my research and was pleasantly surprised to find that the training program was out of Vancouver, BC, and it offered an online training schedule that met my needs! So, here I am, living my dream!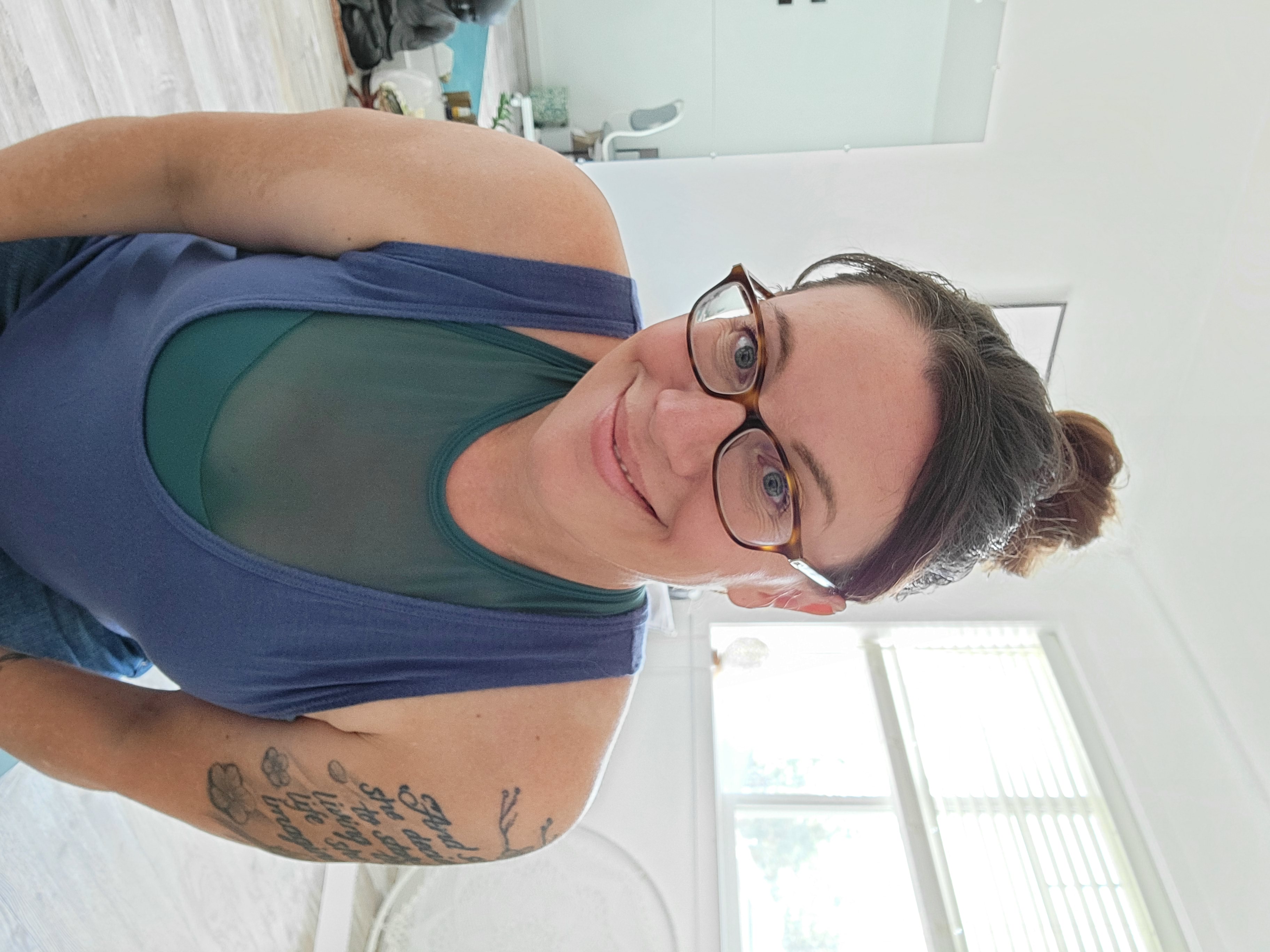 What was your experience of the online YTT?
The online teacher training platform is fantastic. I love how the training methods consider different types of learners and offer formats that each individual student can resonate with. The amazing training along with easy access to the instructors and peers makes for a wonderful, accessible and engaging learning experience.

What notable challenges did you have with the training?
I think everyone's challenges are unique to each individual's circumstances. For me, prioritizing between my work as a paralegal and my many passion projects on-the-go is a bit of a challenge, but one that I learn from every day. The program has helped me to learn to be patient with myself and accepting of where I am at every day, every moment. Life happens, I have additional commitments with my career and family and I am able to pace myself in every aspect of my life to reach my goals while still making time to enjoy my family and friends.
What notable benefits came about from the training?
I have always been a deeply compassionate and empathetic person and the training program has kept that compassion in the forefront of my heart and mind. I feel like the philosophy of yoga and meditation is a perfect fit for who I am.
I also suffer from anxiety and learning more about how yoga, and especially meditation, can help me feel grounded and safe has been so beneficial.


What was your favourite part/aspect of training?
I really loved learning about anatomy. Our bodies are amazing and it really provides a great foundation for yoga, fitness and any type of movement in our daily life to first understand how our bodies move and to recognize which parts we may want to strengthen and stretch based on our own unique circumstances and beautiful bodies.

What was your least favourite part/aspect of training?
I found myself wanting to delve deeper and deeper into every section but recognize that there is further training available for that, and I have the rest of my life to learn. Yoga is a journey and it doesn't end with the training, so I know that once the training ends, my learning will not end.

What stands out as the most valuable thing you learned about yoga?
Focusing on this moment and accepting that the present is where I am at and I have no need to be concerned about yesterday or tomorrow. Mindful moving meditation has really helped me to appreciate every moment, whether I'm washing dishes, strolling down a path, playing with my son or spending time with my husband.

What stands out as the most valuable thing you learned about teaching yoga?
I haven't taught a class yet but I anticipate the most valuable element of teaching is to provide a safe space for every person. Whether that space is in-person or online, every person should feel safe, valued and welcome just as they are.
What stands out as the most valuable thing you learned about yourself?
I can do hard things. Juggling priorities isn't easy, sometimes I feel like a hot mess trying to keep up with everything. I've learned to give myself grace and to believe in my own power and accept that my life course will be rocky sometimes. I have such a passion for learning and from that I can create something beautiful.
How did you find a sense of a community whilst doing the online training?
Your Yoga Flow is an amazing, accepting and supportive community. We celebrate wins and support each other through challenges. Instructors are readily available to answer questions, provide further insight, expand on our training and support each student on their journey. Peers are always supportive and encouraging. It is such a valuable and integral component of the training with access to Q&As, yoga and meditation classes, weekly meetings. I always look forward catching up on what's new in the online forum.

What else do you do in life (career/vocation; parent/partner/caregiver)?
I work full time as a paralegal, spend time with my family, do lots of reading and I love a good true crime podcast! I've just recently started a report writing course relating to the unique experiences and circumstances of Indigenous people in the criminal justice system as a way to address the overrepresentation of Indigenous people in correctional institutions.
How did the YTT you took impact these aspects of your life?
Yoga really does impact every moment of my life and, by extension, the way I live my life. I choose to see every person I meet from a place of kindness, compassion and acceptance. The only shoes I have walked in are my own and I am mindful of that in crossing paths with anyone.
Were you surprised by any aspect of your YTT experience?
So far, no surprises!

How do you intend to share what you've learned with others?
Initially, my hope is that I can create a safe and welcoming virtual space with a significant focus on living your yoga off the mat. Asana practice is beautiful and, both, invigorating and grounding. I love how my body and mind feel after any asana practice. Living my yoga off the mat with intention and practicing mindfulness, compassion, acceptance and fully experiencing life's precious moments is just as invigorating and grounding. Both on the mat and off the mat, practice can truly be life changing and I look forward to sharing it with everyone who that resonates with.
What is the next training you're interested in taking?
I would love to take trauma-informed yoga training. Many people carry a heavy burden and the reality is we don't leave our trauma at the door when we enter a yoga space and we don't know everyone's personal story. Safe spaces are so important, particularly when we are welcoming all people from all walks of life.

Kerri is a current student of 200 Hour Yoga Teacher Training

Connect with Kerri
Instagram