This interview was held in April 2021 with Alumnus, Jorge Fecuri, originally from Brasilia, Brazil and currently residing in Los Angeles. He completed his 200 Hour Yoga Teacher Training in 2017, in Ireland, and is currently enrolled in 100 Hour Prenatal Yoga Teacher Training.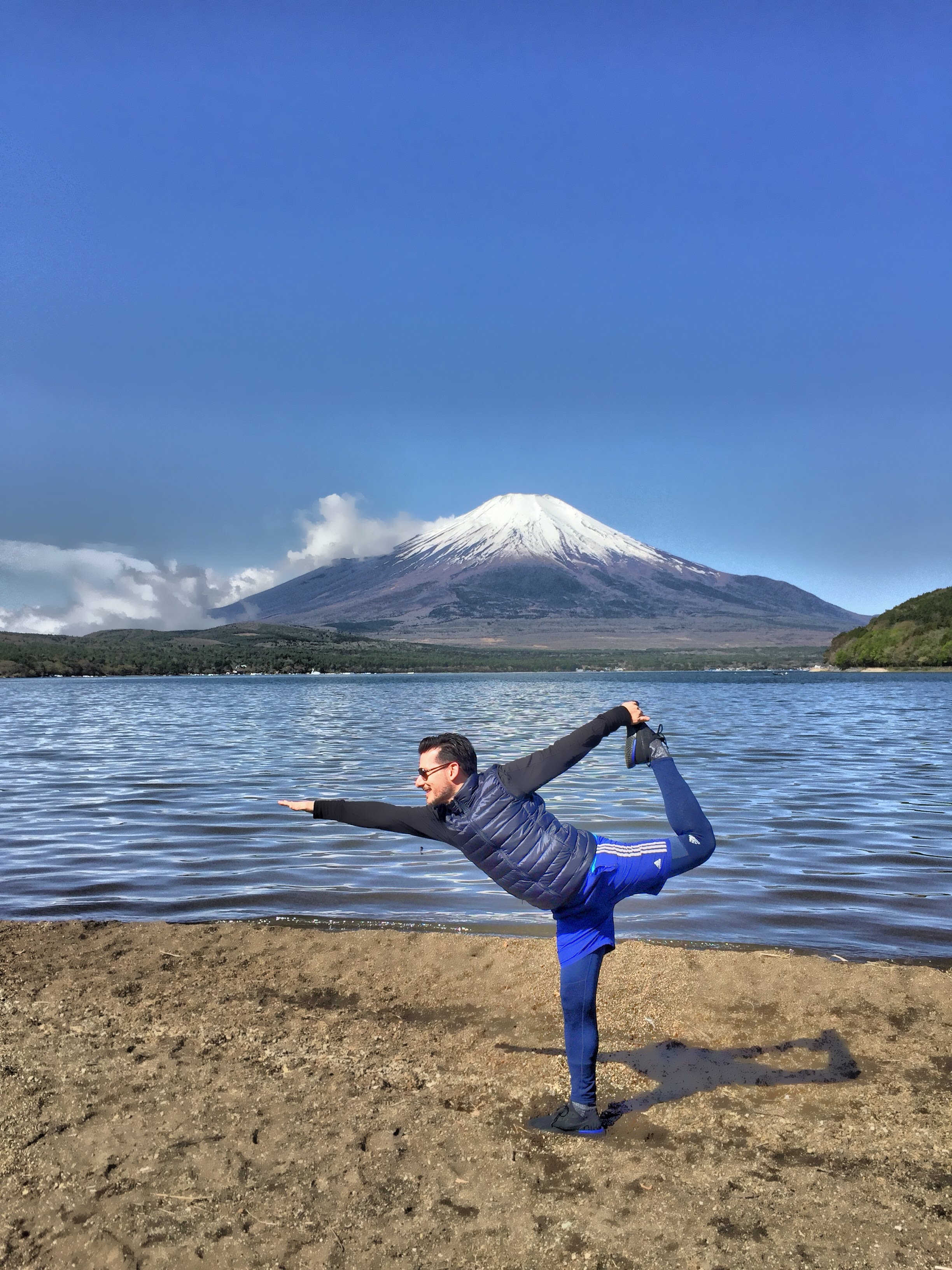 What is your yoga background?
Prior to the 200 hour training, I had been practicing Yoga for about 10 years in Tokyo, Japan, where I lived and worked as a primary school teacher from 2007 to 2019, and during my travels throughout Asia.

How or what prompted you to take YTT?
As a student, I was deeply inspired by some of the teachers I took classes with. Two of them in particular were also colleagues and friends and, through some conversations with them, I became more and more interested in the training. I wanted to deepen my knowledge, mainly to continue on my path to being a healthy individual, but I also started to visualize an alternative path in which I could make a difference in people's minds and to their well-being.

What notable benefits came about from the training?
The training clearly had positive impacts on my own Yoga practice as well as on my life outside of the mat. From the way I hold Asanas to the true meaning of Ahimsa (non-violence), I immersed myself and took on the responsibility to share the benefits of Yoga with as many people as I could.

What was your favourite part/aspect of the training?
Despite the intensity of the training, I was truly fortunate to take it alongside so many incredibly generous individuals, including the teachers responsible for it. From the very first few lectures, during meals and until the practicum, collaboration was constantly present amongst us.

What was your least favourite part/aspect of the training?
As I was the only one, I remember wishing there were other male students with us to share an even more diverse experience with.

What stands out as the most valuable thing you learned about yoga?
That yoga feels different in each body and it is a journey which starts and progresses very differently to each one of us.

What stands out as the most valuable thing you learned about teaching yoga?
It became clear to me that a yoga teacher has great luck and responsibility to create a safe space, where the students' bodies, minds and breath are guided through a comfortable, stable and steady practice.

What stands out as the most valuable thing you learned about yourself?
That I would never be the yoga teacher 'performing' headstands and the splits as this is not what my body asks for. The stress of life, being an expat (first in Tokyo and now in Los Angeles), my anxiety, insomnia and the global pandemic have taught me to sometimes simplify, return to the basics, find contentment on the mat with the foundation poses. I also learned that I will be always learning about myself and what a journey full of wonders this is!

What was your experience of the doing the practicum?
One I will remember for many years to come: I thought of everything, from the requested modifications to music and a flow which made sense. The experience taught me the importance of planning, of knowing what you will be exposing your students to.

What else do you do in life (career/vocation; parent/partner/caregiver)?
I teach English and Portuguese online, translate between those two languages, cook and bake for myself and my partner, exercise, read, collect music and watch detective and comedy shows on TV.

How did the YTT you took impact these aspects of your life?
I continue to take work with the same responsible and careful approach but self-care has become paramount to me. The training, living and working away from most of my family and friends has made me more aware and cautious about my mental and overall health. No matter what my day is like, I will somehow find some time for meditation or a stretch.

Were you surprised by any aspect of your YTT experience?
It surprised me that we were required to teach individual asanas as early as the first or second day of the training and, progressively, short sequences and meditations as the days went by. With that being said, I feel fortunate to have had the opportunity to do it all there and in a safe and supportive environment.

Tell us what your teaching journey has looked like since finishing YTT?
As soon as I returned home from the training in Ireland, I found opportunities to teach people in my everyday circles, like parents of my students, friends, colleagues and acquaintances. I was lucky to have the school gym available and used the space for over two years. I also began to create opportunities to teach at a local park and the experience was amazing.

Teaching in person was an incredibly rewarding experience, especially because many of the people I taught were very new to yoga. It was great to expose them to props, meditation, pranayama, chants, essential oils and, of course, to Asanas. A student once told me that coming to my classes was just like going to a spa!

As many of my students were also colleagues, I ended up being invited to teach all four classes of Grade 1 students several times a week for the entire year. Though challenging and completely voluntary, the experience showed me and my team how positively those children were being impacted: they were much calmer, centered, stronger and they loved belonging to a group which knew the names of the poses and how to perform them.

At the start of the pandemic, I moved to Los Angeles and teaching seemed impossible. However, as the months went by, I was proactive and advertised online classes as an alternative to stay healthy and sane during such difficult times, when gyms and studios started to close. I have taught individual classes, duos, families and everyone seem to be very thankful for the opportunity. Many of them are also new to yoga, so this was also a chance for me to learn how to navigate the world of online teaching.

What is the next yoga-related training you're interested in taking?
I am enrolled in the 100 Hour Prenatal Yoga Teacher Training and, with all that I am doing with my relocation to a new country/city, I hope to complete it within the next year.