This interview was held with current 200HR student, Andrea McHattie-Christensen of Ontario, Canada, in February 2021. Andrea hopes to complete the 200 hour by the fall of 2021 and then begin the 300 hour program, for which she is already enrolled. But she'll go with whatever ends up playing out.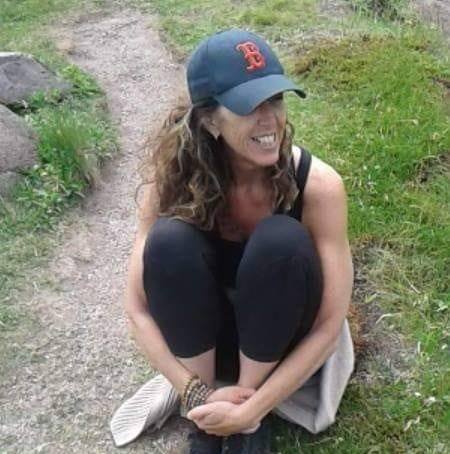 What is your yoga background?
I have been practicing yoga for about 10 years now, at first it was fitness motivated but over time I came to realize just how good it was for my mental and emotional health along with my physical health.

6 years ago I came to know 2 most wonderful yogis (Brendan and Leslie) who own the studio I am a part of here in Trenton and their whole philosophy about yoga really resonated with me, they truly live yoga and that changed everything for me….being a part of a military family and the wife of a veteran who lives with Post Traumatic Stress Disorder, yoga has played a MASSIVE role in my recovery process as well as kept me in a much better state of mind as we face the daily challenges that living with and loving someone with PTSD tends to bring.

I also had a therapist about 6 years ago who decided I really needed to do a Mindfulness Based Stress Reduction course, at the time I honestly thought it was the last thing I had time to be doing….working fulltime at a job 100 km away from my home, it was another thing to TRY to fit into an already busy schedule…but I agreed to do it…mostly because I really couldn't say no to her, lol…..so for 8 weeks every Thursday evening I went for 2 hours and at the time I wasn't really sure I was getting a whole lot out of it but I pressed on and completed the course, including an all day silent retreat…..a few weeks after the course had concluded I realized just how much better I felt mentally, things that normally would really upset me and stick with me, just kinda slid away…I could acknowledge them and let them go….that also was a real turning point for me. Realizing that yoga really was so much more than a class of stretching and posing, it a lot more inside of me and how I experience and react to the world and events around me.

How or what prompted you to take YTT?
I think for me doing my YTT was a next step in my yoga journey. I started by dipping my foot into it and attended any and all workshops I could and any possible opportunities to learn more about yoga, meditation and mindfulness, be it at my local studio or would travel to do so. I have wanted to take the training for a while but always stopped and questioned myself, wondering if I was really "good enough" which my yoga teacher tells me is perfectly normal…I spent a lot of time speaking with her but honestly it took me a while to work up the courage to actually say it out loud, and was amazed that when I did tell her she was so excited and happy for me, as were others in the studio. I remember her telling me that I would learn so much about myself and that alone was well worth the journey.

Another big motivator was in 2019, we had been invited to offer our "Renew" workshop at the Canadian Veterans Winter Sports Clinic for the first time at Calabogie peaks resort. I had all the pieces in place, a meditation and yoga instructor coming up from Toronto to co-facilitate the session, and I even had a back-up just in case, my friend Brendan who was the volunteer yoga instructor for the clinic. The day before the session all of Central Ontario gets hit with a huge ice storm, making travel for our instructor from Toronto impossible. That morning I also learn that Brendan our onsite yogi, has to leave the clinic for a family emergency, I was panicked! I had 37 caregivers, veterans and service providers coming to a workshop I had no facilitator or instructor for…luckily my wonderful supportive husband talked me down off my ledge and reminded me that I had many options to still make this workshop happen….I spent some time with Brendan before he left having him walk me through some mindful movement exercises; I then looked to our community at the clinic and found a meditation teacher I didn't know was there; an equine facilitated mindfulness provider who was glad to help with some grounding exercises; and an lady of indigenous descent who offered up a smudging ceremony. My husband and friends at the clinic also reminded me that I had a lot to offer since I had previously put together 6 Renew sessions at that point…as far out of my comfort zone as this was gonna be, I could make it happen and WE did. It's amazing how the universe threw me a curve ball that ultimately resulted in this "collective" offering that drew from all the people in the room sharing and supporting one another, which is what that clinic is all about.

Then at the end of it, my husband turns to me and says "It's time to take your YTT".

What was your experience of the online YTT?
I have loved the online training, it has been so great to be able to work around my work schedule and commitments and do it at a pace that works for me. Having the live Q&A sessions as well as the live professional development sessions has been so amazing and such a great opportunity to learn insights and expertise from wonderful teachers and experts. I have also found the online platform a lot more comfortable for me personally. Being somewhat of an introvert I find this is an amazing way to really absorb and practice all of the knowledge and skills at a pace that's good for me, so that when it does come time to share it I will be much more confident and at peace.

What notable challenges did you have with the training?
I would say the biggest change for me has been consistently making it a priority, and not allowing my work or other things that can take over, pull me away. But we turned our spare bedroom in our home into a small yoga studio for me so having that space has made a HUGE difference in being able to focus on the training.

What notable benefits came about from the training?
For me there have been several benefits, it has been really great for my confidence building, just taking in all of this great information and learning how to share it with others, but more importantly how to incorporate it into my day to day life.

In addition this wonderful community and connections. I was hesitant at first that doing online training would feel very isolated, and yet I feel so connected and a part of a group, significantly more so, in fact, than many in person trainings I have done in the past.

I would say best way to describe is it COMFORT, this training has provided me with an ability to develop a comfort level that will give me the confidence to share my knowledge.

What was your favourite part/aspect of training?
I would have to say my favorite aspect this training has been the incredible knowledge that has, and continues to, come from it, it has been such a wealth of information that is presented in such an easy way to way to take in and process. While I am still working my way through much of the theory portions, it is so enjoyable to take in. It is also so great to have access to a vast library of practices for literally any need, I am incredibly grateful for that.

What was your least favourite part/aspect of training?
I wouldn't so much say it was my least favorite part but I will admit that I worried a lot about remembering ALL of the Anatomy information, but I have given myself permission to re-watch videos, go over material as many times as I need and absorb the information however I need to do it most effectively, so that's really more about me than the training per se. Coming from a science background I assumed it was gonna be so much easier for me that it was lol, so learning to be more gentle with myself was key to overcoming that.

What stands out as the most valuable thing you learned about yoga?
The most important thing I learned about yoga has been that everyone is very different and that yoga is different for everyone. It's not about everyone doing a pose or asana perfectly, its about doing it as best it works for them and similarly with meditation and mindfulness. We are all unique individuals so allowing ourselves and others to experience what works best for them is absolutely essential. I came into this training with this mindset already, having been taught this at my local studio, I really believe it is what made me really fall in love with yoga and want to grow more in it, so was so happy to learn that Your Yoga Flow YTT is very much is this philosophy.

What stands out as the most valuable thing you learned about teaching yoga?
The most important thing I learned about teaching yoga is really what I answered above, the understanding and recognition (both in our own minds as well as verbalizing to our students) that we are all different and that we experience yoga uniquely. So it really doesn't matter what the person on the next mat is doing, it's about experiencing yoga as what feels right for you.

What stands out as the most valuable thing you learned about yourself?
That my imperfections are Perfectly fine. Yoga and YTT has taught me to be gentler with myself and to really make sure I take care of myself.

How did you find a sense of a community whilst doing the online training?
Oh it was so easy! I will admit I was worried before I signed up that it would be a very isolating experience, but literally from my very first contact with Your Yoga Flow via email, I felt a part of something, a community and an amazing group of like-minded, supportive and caring individuals. Between the online social media group, the live Q&A sessions, and live personal development sessions as well as just members reaching out and connecting with one another I have never for one moment felt at all alone in this training. I have also reached out to my local yoga community for support and they have always been there ready and willing to help out in any way I need.

What else do you do in life (career/vocation; parent/partner/caregiver)?
I am a social worker, working in the VAW (Violence Against Women) sector, as a counsellor in a Women's Shelter just outside of Toronto, helping women who have fled abuse to find safety, peace and ultimately independence. One of my main roles is as a life skills facilitator so have often incorporated yoga and mindfulness into the programming I offer to our clients as well as women from the Oshawa community.

I am the founder and owner of a small social enterprise BIZ called "Bare Body Butters" making natural body butters and donating the profits of sales and or product to a variety of causes that I am involved in like National Service Dogs PTSD Service Dogs program, Standard Poodles in Need rescue, YWCA Durham and any others that I feel passionate about.

I am also a proud member of a military family, and very active within my community helping others facing service related injuries. My husband is a veteran of a 28 year military career, and my son who is 19 is attending Guelph University, currently from our basement as it is all online this year, but he is excited to hopefully be able to attend on campus in the next year all going well.

One thing I am most proud of is that 2.5 years ago, with the wonderful support of my local studio and many talented and supportive friends, I created a series of FREE yoga, mindfulness and wellness retreats and workshops for loved ones and caregivers of injured military members, veterans and first responders. It is called "Renew – Re-establish a Relationship with YOU" and its main mission is to provide these loved ones and caregivers time to just reconnect with themselves away from their caregiver role, and a chance to maybe even get back to who they were before…..It is something I saw a great need for in many of the spouses and family members of injured veterans and military members in my community. While there are many wellness and recovery programs for our injured heroes, there is precious little for those who love and live with them, and the truth is we live with these injuries too. So I approached my local studio with my idea and they jumped right on board offering space as well as instructors; and I tapped into any friends I had who could offer up expertise and talents. To date we have offered 10 "Renew" retreats doing yoga, meditation, creative writing, art therapy, homemade skin care, meditation for sleep and stress reduction and even a few beautiful sound baths. We also were invited to offer Renew sessions for the Canadian Veterans Winter Sports Clinic in 2019 and 2020 holding space with caregivers, military members, veterans and service providers. It has been a beautiful journey that I hope we can continue once the pandemic has subsided.

How did the YTT you took impact these aspects of your life?
YTT as well as my yoga practice in general has a big impact on my career and family life, it brings a level of calmness and compassion whether dealing with family life at home or clients at work. It has helped me to see beyond what is in front of me and understand the various elements at play in a situation. It has also taught me how unique each and every one of us are, we all come from different backgrounds, experience things differently and often we need to really understand that to be able to support another individual in the best and most compassionate way possible.

YTT will also help me in being able to offer more "Renew" retreats and self care workshops in my community and beyond. I would love to be able to show other caregivers how to create a similar program in their own communities so that loved ones and caregivers of our injured heroes can have these wonderful opportunities to connect with others and more importantly themselves.

Were you surprised by any aspect of your YTT experience?
I am so pleasantly surprised at the amazing community that I became a part of when I joined this YTT, the support and connections have been so wonderful and I believe every single day that I am exactly where I am supposed to be. The faculty is amazing and so supportive and my fellow students are just such a beautiful blend of experience, knowledge and caring…I would not want to be anywhere else in this learning journey.

How do you intend to share what you've learned with others?
I hope to bring what I have learned into the Renew caregiver retreats and also to the women I work with at the shelter and in the community. The yoga community I am a part of is very diverse, evolving constantly to meet the needs of its members and I am happy to be a part of such an ever changing and giving studio. I hope that what I am learning now and throughout this training will only make my community stronger and more giving.

What is the next training you're interested in taking?
I have already registered for my 300 hour YTT and am excited to start that once I have completed my 200 hour training.
I also hope to complete Trauma Sensitive Yoga training at some point in the next few years.

Andrea graduated from: 200 Hour Yoga Teacher Training
Andrea is currently enrolled in: 300 Hour Yoga Teacher Training
Connect with Andrea
Website | Instagram | Facebook