This interview was held with Alumnus, Ashley Murray, in January 2021. Originally from the U.S. she now lives in Portugal with her partner at Cara Creek Eco Lodge, a unique place that they co-created. She completed her 200 Hour Yoga Teacher Training in 2017 and is currently enrolled in the 300 Hour Advanced YTT as well as Prenatal and Yin Trainings.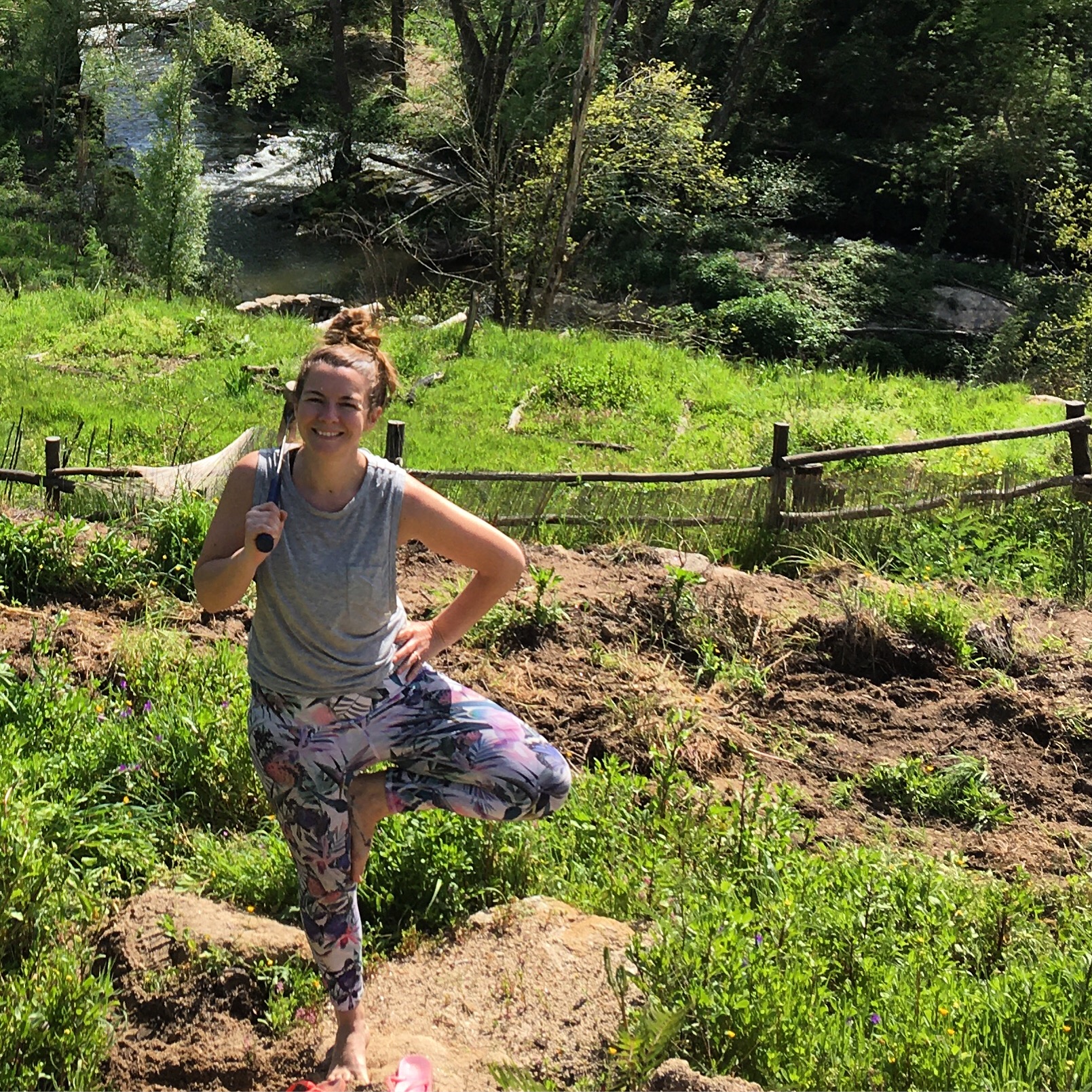 Is your 200 Hour YTT in progress or completed?
200 Hour completed… Others are in progress!

What is your yoga background?
I attended my first yoga class 17 years ago, at the age of 15. I found it a useful tool in managing my teenage anxiety. It has been a fundamental and essential part of my life since. I taught my first yoga class in 2017 after graduating with Your Yoga Flow, and have been teaching both group and private yoga ever since.

How or what prompted you to take YTT?
For years I had been working in Children's hospitals, the majority of which I was a critical care nurse. I had a strong yearning to shift paths due to burnout and some other personal things in my life. After quitting my job, traveling for 6 months, and meeting my now husband Rory, my life took a sharp turn.

I arrived at the training with a desire to deepen my personal yoga practice and develop a practice that I could do on my own since there was not much yoga in the area we had just moved to in Portugal. Plus, I had been practicing for more than 10 years and felt there was more I wanted to explore within yoga.

There was definitely also a glimmer of hope that I was too insecure to admit fully at the time, that I would enjoy teaching and could possibly incorporate it into the venture that Rory and I had started that year (2017). We were living in a tent on a river front property we had recently bought in Central Portugal when I went off to do my training in Ireland. Our intention was to build and create a space for wellness here which I'm happy to report is now built and we live in a real house, not a tent! And, my hope of incorporating teaching yoga into our venture came true.

What notable benefits came about from the training?
Many benefits but I think that integrating mindfulness into my day to day, or at least trying my best to, is the most notable one. After the training, I found myself being more mindful in all aspects of life which made it so much more meaningful. It has profoundly impacted how I manage my stress. I hadn't realized just how "good" I had become at compartmentalizing my emotions and life in general until being introduced to mindfulness at Yoga Teacher Training. Since then I find it to be a helpful tool to always be working on living more mindfully in my physical, mental and emotional body as much as possible…. moment to moment ;-).

What was your favourite part/aspect of the training?
The support from my teachers (Juan and Angela) as well as the support of my fellow yoga teachers-in -raining, and even the alumni community and other teachers from Your Yoga Flow. My fellow alumni from the group still keep in close touch and cheer each other on in life's ventures (yoga and non-yoga related). The Your Yoga Flow community is invaluable.

What was your least favourite part/aspect of the training?
Facing parts of myself and my past that I either didn't want to face yet or hadn't been ready to face before training. Yoga releases things, and I found some of the asana practices, conversations, readings and topics struck cords that were emotionally challenging. But it was and is all part of the journey… and continues to be as I grow.

What stands out as the most valuable thing you learned about yoga?
That I'll be learning new things about yoga for my lifetime and still not know everything about it, and that yoga is a lifestyle choice as much as a practice.

What stands out as the most valuable thing you learned about teaching yoga?
That being authentic brings more to my class than any sequence, meditation or theme. Sometimes my inner bitch towards myself gets hung up that I'm not "good enough" for my students and I get nervous that they're not getting enough out of my classes and blah blah blah... Then I remember the part of the training on authenticity and that there is always something you're offering your students that other teachers can't and that's the authentic part of you. Basically, don't fake it and just be the real me… that's what keeps them coming back… not the perfectly sequenced or themed class or meditation.

What stands out as the most valuable thing you learned about yourself?
How "good" I am at compartmentalizing. I say "good" in quotes because it's something that I think served me at certain times in my life but I'm always working on it, because it doesn't serve long-term. Persevering and putting on a happy face in front of sadness or anger or whatever other "negative" emotion is not helpful, even if I think I'm doing it for others' benefit. Feel the emotions, and get them moving through asana, breathwork, getting out into nature, or whatever other practice helps move them.

What was your experience of doing the practicum?
Considering how nervous I was to be the first one in my group to teach practicum, it went extremely well. Probably because I felt so supported. My lovely fellow trainees even left me flowers at the front of the studio for me. It gave me such a boost! I also learned then that drinking coffee before teaching only makes me more nervous so I totally avoid it!! Good thing to learn early on!

What else do you do in life (career/vocation; parent/partner/caregiver)?
I manage our retreat center, Cara Creek Eco Lodge. I'm also a fur-baby mom to 4 dogs, 2 cats, a goat (Lola), 2 pigs, and 3 chickens! Usually, every March I go Ecuador as part of a medical mission group repairing cleft lips and cleft palates. It's one of my favorite times of the year. Sadly, due to the pandemic we won't be going this March. Last March I just about made it back as the whole world went into lockdown. Sometimes during our winter "off-season", when we're closed I'll also go back and take a travel nurse assignment in which I'm contracted for 3 months. Although I wouldn't want to go back to nursing full time forever, I still really enjoy it while it lasts.

How did the YTT you took impact these aspects of your life?
I've come to realize that if I'm mindful of what I'm doing (whether it be managing a business or nursing or living), I do a much better and thorough job!

Were you surprised by any aspect of your YTT experience?
I was surprised that at the end of my training I actually felt prepared and confident enough to start teaching.

Tell us what your teaching journey has looked like since finishing YTT?
I started teaching pretty much right away in the local (small and rural) community near our place. Added challenge: I first started teaching in Portuguese, at which point my Portuguese was not all that strong. Since most attendees had never been exposed to any yoga it was an interesting experience after teaching to my fellow trainees at teacher training who were all quite experienced.

Over time, foreigners living in the area requested I teach a class in English and now I mostly teach in English since most of my students nowadays are English-speaking. I have some Portuguese private clients, and thankfully my Portuguese is much stronger now!
Once Cara Creek Eco Lodge was open (our first season was 2019), I started holding off grid yoga retreats, and even co-taught a 200 Hour Yoga Teacher Training with Juan in July '19. It was such a wonderful challenge in which I was so supported by Helene, Juan, and the Your Yoga Flow team.

For 3 months Dec 2019-Feb 2020 I was back in Boston to work a nursing contract. I had the opportunity to teach weekly at a Yoga Studio in my hometown which was a really great experience teaching out of my comfort zone, which was teaching in my own place.

In April of 2020, with the pandemic underway I started offering my classes on Zoom. I also started a Youtube channel which I wouldn't have dreamed of pre-pandemic times. Technology is not really my thing. Lockdown lifted here for outdoor yoga through the summer which was amazing on our river beach here at Cara Creek Eco Lodge. I think there's such a benefit to practicing yoga out in nature.

Up until this week we could continue group yoga with proper distancing. Now I'll be taking my classes back online as Portugal enters another country-wide lockdown. For now I'm able to continue with my private clients in person which I'm very grateful for. And I'm grateful for Zoom and being able to reach a larger audience outside of my local area over the coming weeks.

What is the next yoga-related training you're interested in taking?
Well, once I get through the current ones I'm enrolled in (might be a bit!) I'd like to do the Restorative Training. I'd also like to explore Yoga Nidra more and a training for this.

Ashley graduated from: 200 Hour Yoga Teacher Training
Ashley is currently enrolled in: 300 Hour Yoga Teacher Training

Connect with Ashley
Website | Instagram | Facebook